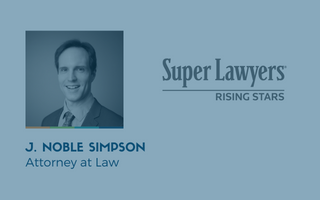 RICHFIELD, MN (August, 2022) – Minnesota-based Litigation Attorney, J. Noble Simpson has earned an esteemed reputation by advising and counseling clients on contested wills, contested trusts, contested guardianships, contested conservatorships, and other contested probate and financial exploitation matters.
This year, Noble earned his first selection to the Minnesota Super Lawyers Rising Stars list, a distinction which places him among just 2.5% of all practicing lawyers in the entire state. The list is reserved for lawyers who are 40 years of age or younger, or who have been in practice for 10 years or less. 
About J. Noble Simpson
J. Noble Simpson obtained his Bachelor of Arts degree, with Majors in English and Philosophy, from the University of Minnesota, Mankato and his J.D. from University of Minnesota Law School.
For five years, Noble was a high school team-teacher in Japan, teaching English grammar and writing. He now uses those skills to simplify and explain even the most complex legal subjects and court procedures without the legalese. 
For Noble, litigation is the intersection of two passions: writing and arguing a case. Noble volunteers as a judge for the Minnesota State Bar Association High School Mock Trial Program.
Selection to the Super Lawyers List of Rising Stars
Selection to the Super Lawyers Rising Stars list is an achievement held by no more than 2.5% of attorneys per state.  
The proprietary and patented selection process is known for its rigorous objective, and meticulous, peer-reviewed procedures. This includes nominations, research panels, and third party sources vetting potential Rising Star candidates.
Attorneys selected for inclusion are regarded among the top in their field.
About Maser, Amundson & Boggio
Attorneys and the team of hand-selected professionals at Maser, Amundson & Boggio are dedicated to supporting the needs of families at all stages of life and across multiple generations. 
The primary areas of focus are elder law, special needs planning, and general litigation. Their goal is to equip individuals with the tools they need to handle whatever life brings their way. They are committed to providing their clients with multiple options, so they have the freedom to remain connected and engaged as they encounter difficult situations or illnesses during their lifetime. Visit www.maserlaw.com for more information about the firm.
####