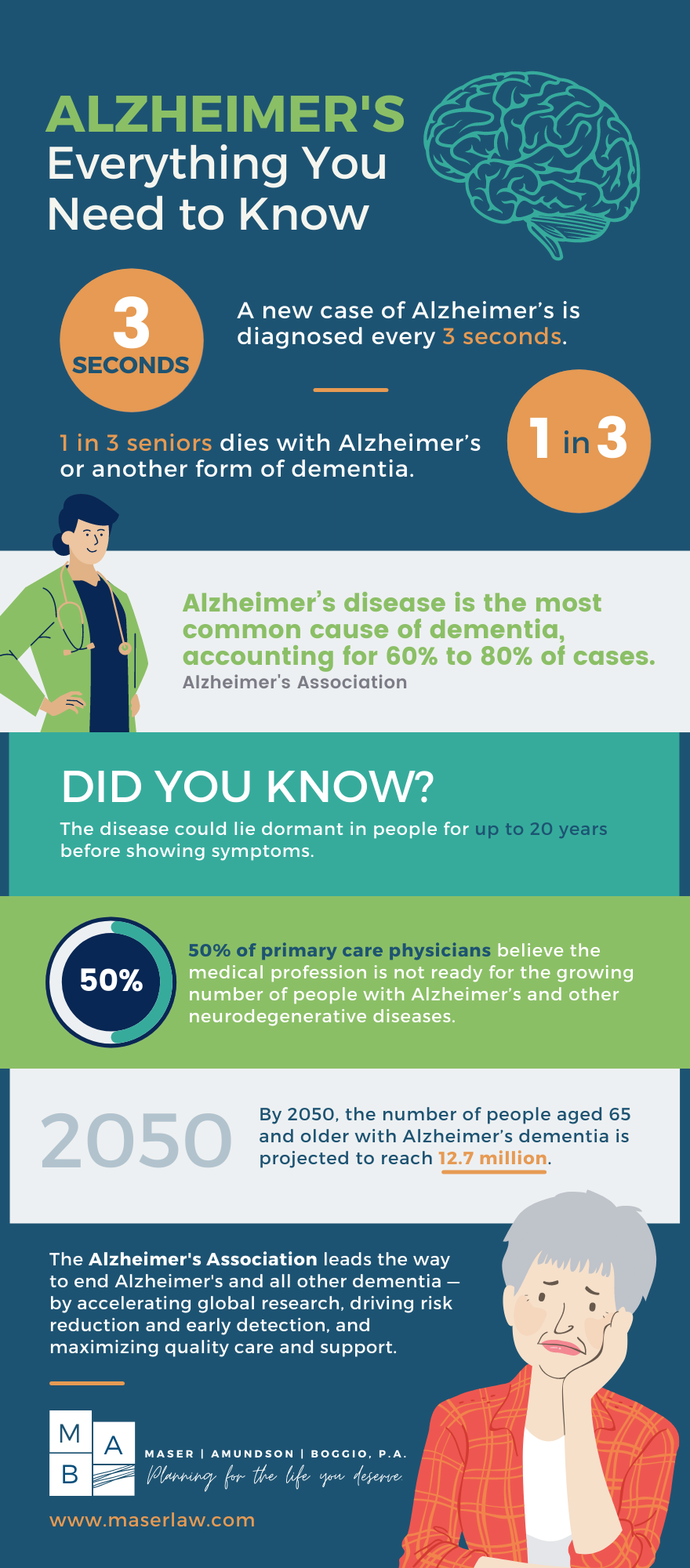 September acknowledges World Alzheimer's Month – a time to raise awareness and join the fight to challenge the stigma surrounding the progressive and debilitating disease. 
Alzheimer's is a neurodegenerative disease where symptoms of dementia gradually increase and intensify over the years, making it difficult for seniors to live out their normal daily lives. Alzheimer's affects more than 6 million people in the United States and has become an increasingly common concern for the medical field and caregivers to manage. 
Awareness starts with education. To help familiarize our readers with the disease and shed light on the severity of the illness, here are up-to-date facts as of September 2021 provided by the Alzheimer's Association:
Alzheimer's is the

6th leading cause of death

in the United States.

A new case of Alzheimer's is diagnosed every

3 seconds

.

The disease could lie dormant in people for

up to 20 years

before showing symptoms.

Alzheimer's disease is the most common cause of dementia, accounting for

60% to 80%

of cases.

By

2050

, the number of people aged 65 and older with Alzheimer's dementia is projected to reach

12.7 million

.

1 in 3 seniors

dies with Alzheimer's or another form of dementia.

Family members and friends provided nearly

$257 billion in unpaid care

to people with Alzheimer's and other neurodegenerative diseases in 2020.

In America,

16 million

people in total provide unpaid care for people with Alzheimer's and other dementias.

In 2021, the total national cost of caring for people with Alzheimer's and other neurodegenerative diseases is projected to reach

$355 billion

. This number could jump as high as

$1.1 trillion

by 2050.

Alzheimer's takes the lives of more people than breast cancer and prostate cancer combined.

50% of primary care physicians

believe the medical profession is not ready for the growing number of people with Alzheimer's and other neurodegenerative diseases.
After a Diagnosis
This disease can be daunting especially as it progresses. Oftentimes the caregiver is put in the position of planning and decision-making for a variety of challenges and situations which may still be hypothetical as the person is still at the earliest stages of diagnosis. 
Now, however, is the time for you to start. Look ahead and make plans for how you can ensure that your aging loved one will receive all of the care, support, and assistance that they need throughout the disease progression.
Some of the care planning considerations for an elderly adult in the early stages of Alzheimer's disease include:
End-of-life planning

Care management (cost of care, type of care, facility for care, etc.)

Support groups for a loved one and the caregiver
Our Life Care Planning Team Can Help
Alzheimer's takes a toll on both families and caregivers. At Maser, Amundson & Boggio, P.A., our elder law attorneys provide qualified and competent guidance in handling complex issues that affect seniors and individuals with special needs. 
We believe that individuals should be able to decide how they want to live as they age.  As such, we empower our clients to take charge of their lives and make decisions that reflect what is most important to them-Our clients often tell us that knowing our dedicated team is advocating for their family members is a great relief to them
The legal experience of our elder law attorneys enables them to interpret intricate legal issues for clients and their family members. Contact our Richfield-based law firm by calling us at (952) 925-4147 or sending us a message to learn more about our long-term care planning services.