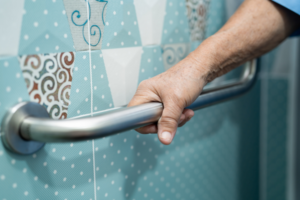 Falls are by far the leading cause of injuries, hospitalizations, and deaths among seniors – particularly among those who are 65 and older. Data from the CDC shows that one out of every four seniors in the US suffers a fall injury every year. 
Poor vision, balance and coordination issues, reduced muscle mass and strength, and a host of other factors make seniors vulnerable to falls. Apart from this, environmental factors like clutter, uneven floors, and poor lighting can also increase the risk of falls significantly. 
Experts say that by making certain modifications to your home, you can reduce your risk of falling to a significant extent. Given below are some of the steps you can take to fall-proof your home and ensure your safety. 
Fall-Proofing Your Bathroom
Data shows that most fall accidents involving seniors occur in the bathroom. Many people tend to slip and lose their balance while getting in and out of the shower, getting in and out of the bathtub, and while getting on and off the toilet. Fall accidents in the bathroom can result in broken bones, hip fractures, and traumatic brain injuries. 
Key steps to ensure bathroom safety for seniors:
Place non-slip mats on the bathroom floor – particularly near the shower, bathtub, and the toilet, where the risk of slipping and falling is extremely high. 

Install grab bars by the shower, bathtub, and toilet. It's astute to avoid suction grab bars, since they can pop off the wall surface at times. Instead, choose grab bars that can be securely screwed into wall studs. 

Get a shower chair (preferably one with arms and a backrest) so that you can shower while remaining seated. 

Install a walk-in bathtub. 

Install a shelf or a cabinet at a comfortable height and make sure all the items you need – from soap to shampoo, conditioner, shower gel, razors, towels, and other items – are within your reach. 

Declutter your bathroom and remove trip hazards like scatter rugs and trash cans. 
Fall-Proofing Your Kitchen and Other Areas

While statistically most senior fall accidents occur in the bathroom, the rest of the home, particularly the kitchen, has plenty of hazards that can be accommodated to prevent injury. Explore these tips for a safer living space for your senior loved one:
Kitchen Safety Tips:
Install cabinets and shelves at a comfortable height so that you do not have to use a stepstool or chair to get the items you need for cooking. 

Avoid scatter rugs, as they can cause you to trip and fall if you are not careful. Open the door for non-slip mats or rubber-backed rugs instead. 

Place additional chairs in the kitchen table so that you can remain seated while cooking. 

Keep rags, towels, and tissues within your reach so that you can clean up spills immediately.
General Home Safety Tips:
Install overhead lights at the top and bottom of your stairs. 

Inspect your steps to ensure they are not uneven, wobbly, or broken. 

Install handrails on both sides of the stairs. 

Install grab bars at the front entrance as well as at the back entrance, so that you have something to grab onto while opening and closing the door. 

Do not change light bulbs by yourself. Ask your family members or neighbors to do it for you. 
Consult with an Experienced Elder Law Firm
Ask Maser, Amundson & Boggio – The Most Trusted Choice for Your Life Care Planning and Long-Term Care Planning Needs 
A fall accident can turn your life upside down in a second. As you get older, it's crucial to take all possible measures to reduce the risk of falls and ensure your safety. At the same time, you also need to plan for fall-related contingencies so that you can get the medical assistance and care you need – if and when you need it. 
At Maser, Amundson & Boggio, we offer personalized life care planning, long-term care planning, and estate planning services for elderly people. We can assess your situation and offer personalized solutions to make sure you get the level of care you need and experience a high quality of life during your golden years. 
Call us today at 952-925-4147 or get in touch with us using our online contact form to find out more about our services.