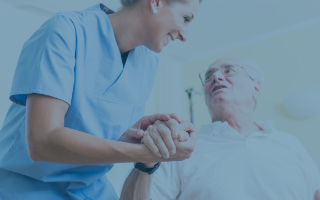 Paying for long-term care may be one of the first things that comes across the mind of someone diagnosed with Parkinson's disease.  Not knowing what the future will look like or what it will cost is scary, but fortunately there are many different options available to pay for care and to organize your finances to safeguard your future.    
At the beginning of the care continuum, family resources are typically used.  There are some tax-advantaged ways of paying for care, which would include using retirement accounts that have deferred income taxes, such as IRAs or 401ks.  With the onset of medical expenses, the person receiving care can qualify for a medical expense deduction which can be used to offset the income taxes generated by taking distributions from retirement accounts.  Depending on the amount of retirement savings available to a family, this could cover care costs for a long time.
Long-term Care Insurance
Another method of paying for care is through long-term care insurance.  You may have long-term care insurance purchased that can be used to pay for your care.  You should carefully review your policy to determine what benefits may be provided.  For example, a long-term care insurance policy can pay for in-home care, assisted living care, and care at a skilled nursing facility.  It is important to know what your coverage is so that you may access your policy benefits at the time your care needs arise.  Some of these long-term care insurance policies are qualified for the Minnesota long-term care partnership plan.  Through the partnership plan, if you use all of the benefit available in your long-term care insurance policy, you can use the amount paid out to protect a particular asset.  If you need to apply for means-tested government benefits at a later date, such as Medical Assistance, your partnership-qualified long-term care insurance allows you to retain assets above the eligibility limits for the program.
Veterans
If you are a Veteran, your service may qualify you for certain benefits through the Veterans Administration ("VA") that can pay for some of or all of your long-term care.  Veteran's improved pension with Aid and Attendance benefits is a program that can provide you with a monthly payment that can be applied towards care of your choosing.  This can be used to pay for in-home care, care at an assisted living facility or skilled nursing care.  If you have service-connected disability, you may be entitled to benefits that would pay for in-home care, care at a VA Community Living Center, or care at a VA-contracted nursing facility.  In Minnesota, we have Veterans homes in Minneapolis, Fergus Falls, Luverne, and Silver Bay where both veterans and their spouses may qualify for receiving care.  
Medicaid
Lastly, if your assets fall within certain eligibility limits, Medical Assistance (Medicaid) may be available to help pay for your care.  Medical Assistance may be accessed to pay for care at all levels, from in-home to skilled nursing.  There are many different rules and asset limits to be aware of to access Medical Assistance.  It is important to plan ahead if Medical Assistance may be required to ensure that you are able to collect the benefits you need to help pay for care.
An experienced Elder Law Attorney can help you create a legal plan to pay for care and access the benefits you are entitled to, as well as discuss strategies for preserving your assets to protect your family.