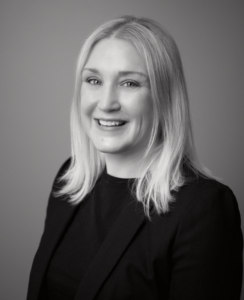 RICHFIELD, MN (June 7, 2022) – Maser, Amundson & Boggio, P.A. is proud to announce that elder law and litigation attorney Sarah Sicheneder is now a Shareholder. Sarah joins Shareholders, Brenna Galvin, Luther Amundson, Randy Boggio, and Lauren Fink.
Sarah Sicheneder joined the team at Maser, Amundson & Boggio, P.A. in December of 2017.  Her practice focuses on guardianship, conservatorship, estate planning, estate and trust administration, and long-term care planning.  Sarah is smart, diligent, and passionate about helping her clients find the optimal solution to their situations. Her calm demeanor helps her clients feel at peace during some of life's most difficult times. Inspired by her father's work as an attorney, Sarah wanted to dedicate her career to making a significant impact in people's lives.   
In addition to practicing law with the firm, Sarah is committed to giving back to the community. In 2022, she was recognized by the Minnesota Bar Association as a North Star Lawyer for her dedication to pro bono legal services for low-income individuals. Sarah's volunteer work includes  Tubman, Minnesota's largest provider of domestic violence shelter services, and Wills for Heroes, an organization that provides legal services free of charge to our nation's first responders. 
Managing Shareholder Brenna Galvin shared, "The addition of Sarah Sichender as a Shareholder is such an asset to both the firm and our clients. Sarah is well-respected by colleagues and the bench.  She brings with her the ability to see various outcomes and remedies in a situation and offers creative solutions. It is her creative mindset, empathy, and legal acumen that will help continue the firm's path to excellence in elder law for residents of Minnesota."
When asked what this means to her, Sarah replied, "Becoming a shareholder at Maser, Amundson & Boggio gives me the opportunity to shape the future of the firm that equally focuses on innovation in the law and preserving the well-deserved reputation of the firm founders who are recognized by clients and peers alike as the leaders in the field of elder law.  I am honored to be asked to join the firm as a shareholder, but I take to heart that with great power comes great responsibility.  I am eager to serve in a leadership role so that I am able to encourage the continuation of client-centered representation that the employees of the firm work so hard to achieve." 
About Sarah Sicheneder
Sarah Sicheneder is a shareholder with Maser, Amundson & Boggio, P.A. She practices in the areas of estate planning, wills, estate and trust administration, and guardianship and conservatorship cases. She is dedicated and persistent in helping her clients navigate through the process of identifying core issues in order to find the optimal solution for their situation and giving them peace of mind. 
Sarah is a graduate of DePaul University Law School. She enjoys volunteering, giving back to the community and raising chickens in her backyard.
About Maser, Amundson & Boggio
For over 30 years, Maser, Amundson & Boggio has been dedicated to the needs of families at all stages of life and across multiple generations. The team specializes in elder law, special needs planning, and general litigation. The goal is to equip individuals with the tools they need to handle whatever life brings their way. They are committed to providing their clients with multiple options, so they have the freedom to remain connected and engaged as they encounter difficult situations or illnesses during their lifetime. Visit our website for more information.
####