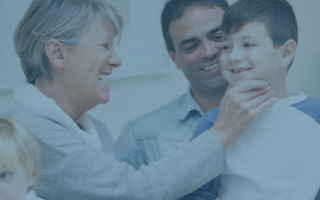 July is National Sandwich Generation Month, a time to recognize the group of individuals "caught in the middle" of caring for their aging relatives and children simultaneously. A majority (71%) of the people in this group are aged 40-59, with an additional 19% under the age of 40 and 10% older than 60. 
"Parents feel emotionally and financially stressed by caring for young children and older relatives at the same time." – Jessica Grose, New York Times
The best way for the sandwich generation to cope with the financial obligations that come along with multigenerational care is to have a well-thought-out financial plan. Although your aging parents may already have an estate plan in place, the cost to carry out their long-term care can be excessive. Financial or legal advisors can help to navigate this process, ensuring your loved one is receiving the quality care they deserve at a price they can afford. An experienced professional can help to alleviate unnecessary stress on the caregiver, allowing them the time to properly care for their loved ones. 
Some of the roles of a financial or legal advisor include: 
Paying bills

Managing financial accounts

Filing tax returns

Talking to insurance companies

Dealing with issues involving benefits

Hiring a caregiver

Selling property
Having "The Talk"
Open and honest communication – which may not happen frequently within your family – is the key to navigating the challenges of the sandwich generation. According to thebalance.com, only about half of the baby boomer generation surveyed had talked to relatives about wishes, medical treatment, plans for incapacitation, or even how to pay for care. Couples are living longer, so making sure they don't outlive their retirement nest egg is essential. 
It is important to have plans in place if you're caring for your aging parents while also trying to care for your young (or not-so-young) children. Being prepared will help to minimize the stress and anxiety during this difficult time.  Determining how to pay for long-term care before it is needed is crucial. The cost of nursing homes is exorbitant, and Medicare only covers up to 100 days of skilled nursing care. However, it is possible to protect your parents' assets while at the same time ensuring they receive the care they need through Medicaid Planning.  
Be sure to engage with a legal professional to discuss your options and make sure the proper funds are available for your parents' care. Proactive planning will help reduce your financial stress if you are already dealing with the balancing act or you simply have concerns you may be in this spot in the near future.